I'm starting some new traditions.
One, being a Thirsty Thursday post, every Thursday on Kat Eats.
This will consist of a cocktail that sounds appealing to me, and that I believe you will be interested in too.
And I start this new tradition with a favorite libation of mine, prosecco.
(The sparkly Italian dry wine similar to champagne.)
In my travels exploring Manhattan, lower Manhattan to be specific, I walked by a bar with a very unique name.
Loopy Doopy.
Let that sink in.
Loopy.
Doopy.
I giggled to myself in that moment. I loved the name, and it grabbed my attention.
As I'm constantly glued to my smartphone, I googled said bar, and discovered well, I need to hit this place up sometime.
Why?
PROSECCO!
Loopy Doopy, or known as the full name, Loopy Doopy Rooftop Bar, is located on the 16th floor of stylish, trendy hotel Conrad New York.
The bar, through looking at pictures on its website, has amazing views of the Hudson River, the Statue of Liberty and New York Harbor.
And the cocktail that tops the list?
May I present, the Boozy Ice Pop 's description from Conrad New York:
Boozy Ice Pop cocktail – A fruity People's Pop ice pop topped with chilled Prosecco from our very own tap. Popular flavors include Blueberry Peach, Strawberry Lemongrass and Empire Apple.
Holy moly. First of all, Prosecco, FROM IT'S "VERY OWN TAP." A TAP OF PROSECCO. Then, add the delicious People's Pops, which by the way you can find in places such as the High Line or Smorgasburg. It's like a fresh, frozen Prosecco dream.
Here are some pictures I found of this dream drink: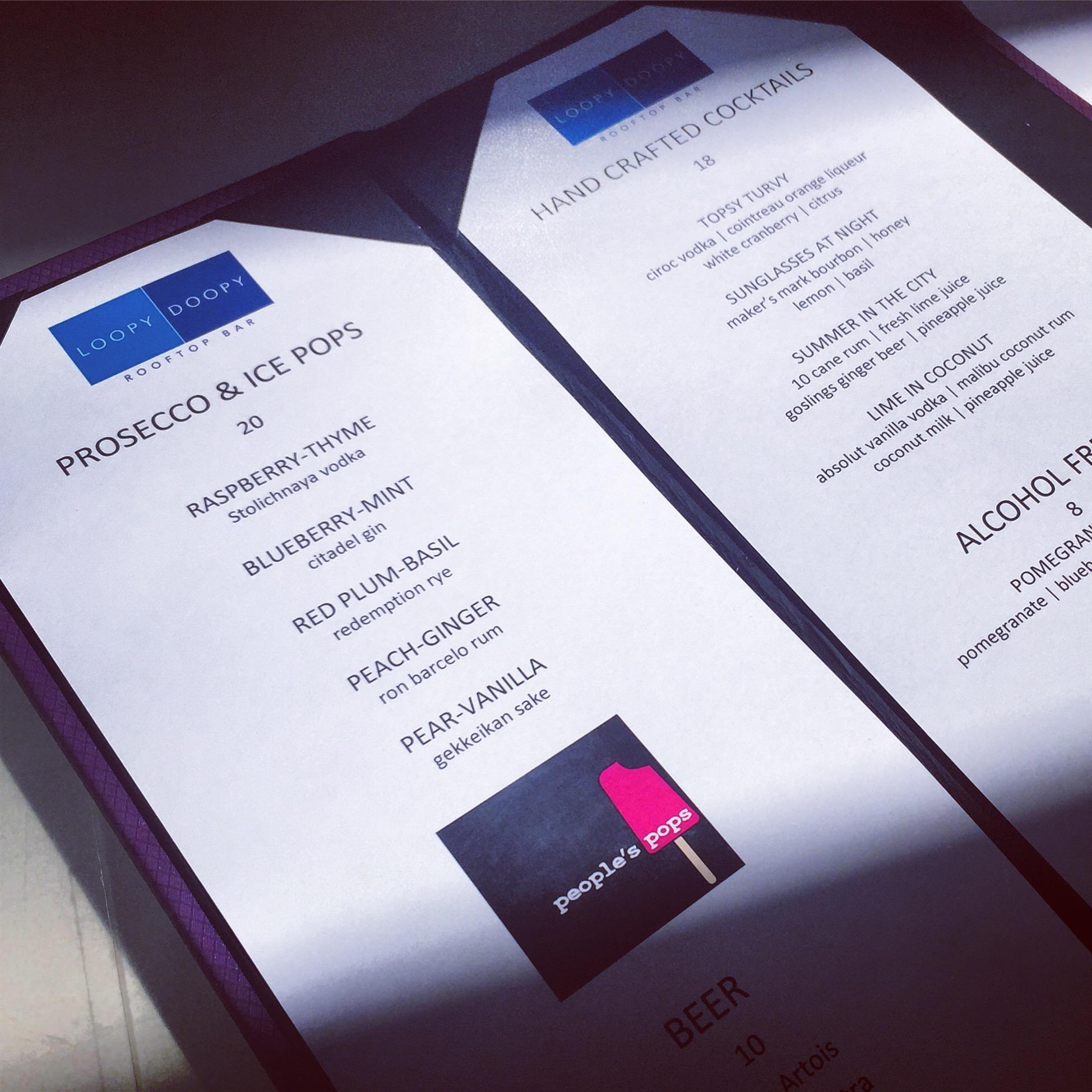 Photo Credit: Loopy Doopy Bar
Even the POPSICLES ARE BOOZY! What combos!
I totally want this.
—
Here's how you can get one:
Open April through October, weather permitting. Please note, final guest arrival for the evening occurs 30 minutes prior to closing time each night.
Monday – Thursday: 4pm – 12am
Friday & Saturday: 12pm – 1am
Sunday: 12pm – 12am
Have you been to Loopy Doopy for its Boozy Ice Pop cocktail?! Comment below if you have, or if you're yearning for this cocktail like I am…